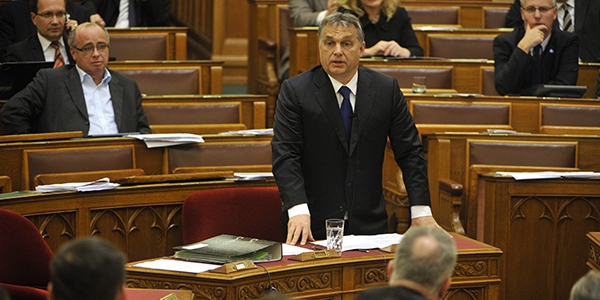 Hungarian public procurement legislation is the strictest in Europe
8 December 2015
During the question-and-answer session in Parliament, Prime Minister Viktor Orbán said that the Hungarian public procurement Act is the strictest in Europe.
In response to LMP party leader András Schiffer's question, the Prime Minister said that in Hungary public procurements are open to the public, and the names of company owners must be disclosed; everyone can see who has submitted tenders, and who has won the public procurement procedure. Mr. Schiffer recalled that the new public procurement Act excluded family members of leading figures of state administration from the list of possible tenderers, however "this rule existed for maybe one and a half months: last week (…) this circle was narrowed to relatives living in the same household". He asked the Prime Minister whether he will initiate stricter conflict of interest regulations in connection with political leaders and public procurement decision-makers.
In his answer the Prime Minister said that the public procurement law currently in force is the strictest one in Europe; it is stricter than any of the previous Hungarian public procurement Acts, as it covers a wider range of persons than any of previous legislation. He also added that the current legislation is easy to comply with and realistic, as it declares that one is responsible for those with whom one shares one's household. This circle is well-defined, thus it is clear how the regulation is to be complied with, Mr. Orbán argued.
In his follow-up comments, Mr. Schiffer suggested that all politicians should undergo mandatory investigations into their assets. Mr. Orbán replied that the issue of asset declaration has long been a topic for debate, and he has never been a fan of the chaos surrounding the issue. It would probably be best "if we picked a respectable democracy" like Germany or Austria, and Hungary adapted its rules, the Prime Minister said. In closing he asked Mr. Schiffer "to please raise your voice if any of my family members tender for public procurements".
Jobbik's János Volner asked Mr. Orbán why people receiving profitable state and local government contracts are usually from the Prime Minister's circles. The Prime Minister said this was a blind accusation, and told Mr. Volner that he should to turn to the relevant state authorities if he knows of any specific cases, infringements or abuses of power. He pointed out that he will not deal with business issues; he will not allow the Government's decisions to be influences by private interests. "You are the ones dealing with business issues here in Parliament, you have brought them here for some mysterious reason", the Prime Minister told the opposition party.
Mr. Orbán pointed out that the Government can be held to account for making decisions in every specific case with the interests of the Hungarian people in mind, and the Cabinet accepts this responsibility, moral standard and requirement. He also said that Jobbik has "successfully" got involved in one of the country's most serious party funding corruption cases, associated with Béla Kovács, and there is someone in the party who can be linked to the country's largest "company graveyard". "They have not even governed, yet they already have quite a number of dubious cases: they have an impressive performance", the Prime Minister said.
Referring to Hungarian land falling into foreign ownership, Benedek R. Sallai (LMP) expressed his anxiety and quoted four statements, of which – according to him – three were said by the Prime Minister. He asked for the opinion of the Prime Minister on the issues, and called for a halt to privatisation.
In his answer, Mr. Orbán declared that he stands by all his previous statements. He pointed out that auctions are public, and with reference to numbers, he denied that small and medium-sized farmers cannot get access to land. There are "no more than nine foreigners", who were in fact winners at auction, but this does not mean that they can buy the land, the Prime Minister noted.
Cabinet Office of the Prime Minister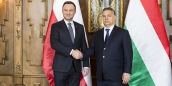 On Saturday morning, Prime Minister Viktor Orbán received President of Poland Andrzej Duda in Parliament.
In answer to questions from foreign journalists in Brussels on Friday, the second day of the summit of the European Union's heads of state and government, Prime Minister Viktor Orbán said that Hungary does not like double standards, and therefore does not support them being applied to anyone, including Poland.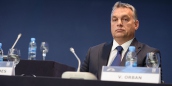 At a press conference in Brussels on Friday afternoon, in which he evaluated the agreement between the European Union and Turkey, Prime Minister Viktor Orbán said that Hungarian diplomacy has achieved its goals.