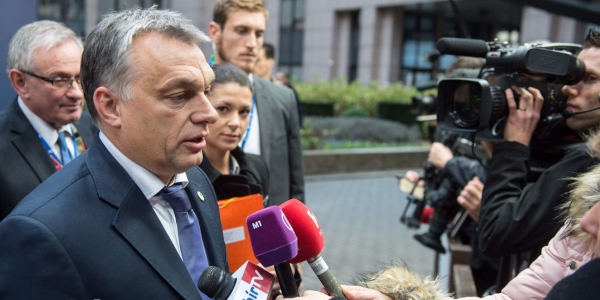 In principle Hungary is ready to support the establishment of a permanent EU border protection force
18 December 2015
In Brussels on Thursday, before the summit of EU Heads of State and Government, Prime Minister Viktor Orbán said that in principle Hungary is ready to support the establishment of a permanent EU border protection force. The details must be discussed, but the Government of Hungary agrees with the direction of the initiative, he added.

Before the European Council meeting the Prime Minister reiterated that the Government of Hungary has always argued that if a Member State is not able to protect its borders, then other Member States must step in to protect them.
Mr. Orbán said that the European Commission's proposal to restructure Frontex – the EU's border protection agency – is obviously related to Greece. He said that "we accept that if a country is unable to do so (protect its borders), supplementary measures should be available", but border protection is "primarily a national competency and we will not hand it over to anyone; this is the responsibility of the Hungarian state, protecting the external borders is the responsibility of the Government of Hungary", he stressed.

On Tuesday the European Commission submitted its proposal on the establishment of a permanent European Border and Coast Guard. This would have the competency to take over the protection of the EU's external borders, even if the government of a Member State objected.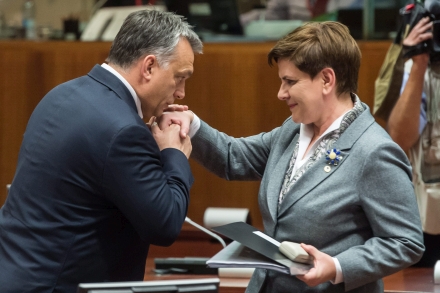 The Chancellor of Austria has repeatedly blackmailed Hungary

The Prime Minister also talked about the suggestion, made by Austrian Chancellor Werner Faymann, to cut EU funding to countries which refuse to participate in the distribution of migrants among the Member States. Mr. Orbán addressed a message to "leftist prime ministers" suggesting this idea that "they should not be using blackmail, as that is not a European attitude – it is anti-European behaviour."

He added that Mr. Faymann "has repeatedly blackmailed Hungary, and is blackmailing everyone who continues to stand up for freedom of opinion and speech. This is not a European attitude; we will not be able to come to an agreement on these grounds".

Mr. Orbán said that prime ministers of the Visegrád countries will hold talks before the EU summit, and British Prime Minister David Cameron will also attend it. On Friday Mr. Orbán will hold a bilateral meeting with Mr. Cameron.

(MTI, Photo: Gergely Botár/Cabinet Office of the Prime Minister)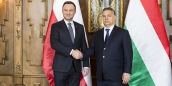 On Saturday morning, Prime Minister Viktor Orbán received President of Poland Andrzej Duda in Parliament.
In answer to questions from foreign journalists in Brussels on Friday, the second day of the summit of the European Union's heads of state and government, Prime Minister Viktor Orbán said that Hungary does not like double standards, and therefore does not support them being applied to anyone, including Poland.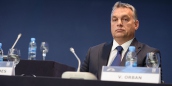 At a press conference in Brussels on Friday afternoon, in which he evaluated the agreement between the European Union and Turkey, Prime Minister Viktor Orbán said that Hungarian diplomacy has achieved its goals.