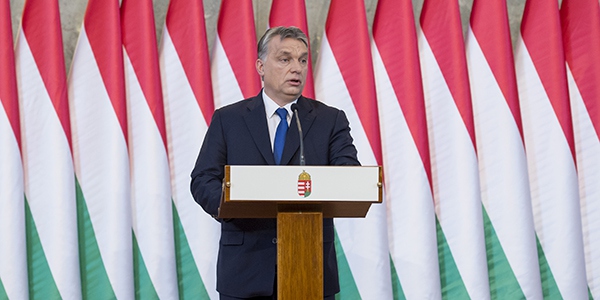 Legislation on initiating referenda must be changed
24 February 2016
Prime Minister Viktor Orbán is requesting that the National Election Office (NEO) and the National Election Commission (NEC) analyse the situation which has developed with regard to the initiating of referenda and put forward a proposal on amending existing regulations.
The Prime Minister made the announcement in reply to a question during a press conference on Wednesday afternoon. Mr. Orbán was asked about scenes which developed outside the National Election Office on Tuesday in relation to the attempted submission of a referendum question on Sunday trading. In his reply, the Prime Minister indicated that this was not the first time that such "undignified" scenes had developed at the election office in relation to the initiating of referenda. According to the Prime Minister, the affair was "completely at odds with everything which we would like to see in Hungary," in view of the fact that the Government see its task as the creation of a culture of respect.
Mr. Orbán said that "as this is not the first time such events have occurred, we must conclude that such situations arise because the legislation [is] inadequate". He added that the "rules at present do not guarantee fair and civilised conditions for those wishing to exercise their civil rights", adding that accordingly he calls on the NEO and NEC to face up to the unsustainable nature of the situation and put forward a proposal for the amendment of these "unfortunate" regulations.
The Prime Minister was also asked whether the Government would be adding further questions – on the issue of Sunday trading, for instance – to the referendum on compulsory resettlement quotas.
In his reply, the Prime Minister declared that the Government does not intend to combine this question with any other in a referendum, citing the fact that "we are not calling a referendum on a lifestyle question, but on the most important question related to the existence of the Hungarian national community: who shall constitute the Hungarian nation? Who shall live in the territory of Hungary?"
MTI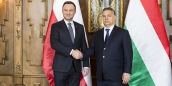 On Saturday morning, Prime Minister Viktor Orbán received President of Poland Andrzej Duda in Parliament.
In answer to questions from foreign journalists in Brussels on Friday, the second day of the summit of the European Union's heads of state and government, Prime Minister Viktor Orbán said that Hungary does not like double standards, and therefore does not support them being applied to anyone, including Poland.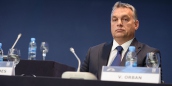 At a press conference in Brussels on Friday afternoon, in which he evaluated the agreement between the European Union and Turkey, Prime Minister Viktor Orbán said that Hungarian diplomacy has achieved its goals.