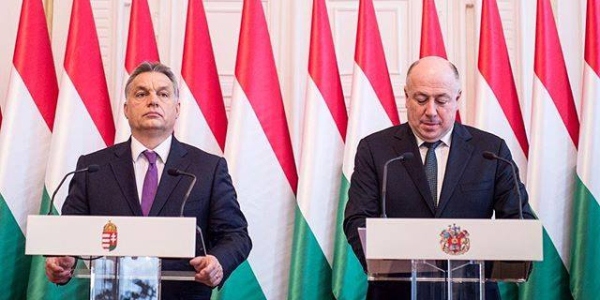 Miskolc has become a city of enterprises seeking new workers
11 February 2016
At a joint press conference on Thursday with the city's Mayor of Miskolc Ákos Kriza (Fidesz-KDNP), and following a review of the county capital's recent development projects, Prime Minister Viktor Orbán said that "Miskolc is no longer a city of unemployment, but a city of enterprises seeking new workers".

The Prime Minister said that the Miskolc-related part of the Modern Cities Programme is moving forward according to schedule, and there is a good chance it will be successfully realised. He met the Mayor at the City Hall, as the Fidesz-KDNP Parliamentary Group is holding its current session in nearby Lillafüred.

According to Mr. Orbán, Miskolc is making good progress towards becoming a modern industrial city. He said he sees it as a positive sign that soon there could be a shortage of job-seekers in the city.

Among current projects, he mentioned the restoration of Diósgyőr Castle, the development of the spa and baths in Miskolc-Tapolca and the expansion of the city's industrial zone. The Prime Minister also urged for the rapid completion of the citywide security camera system, and he reported on the Government's decision to provide HUF 8 billion (EUR 25.6M) in funding for construction of an intermodal transport hub.

He said that in Miskolc there is "great potential", which is partly provided by the city's residents, and he added that "the forceful action which has been taken in the interests of law and order in the city have made it increasingly attractive", even though this requires decisions which "attract interest and criticism from human rights and other organisations". He pointed out that for there to be law and order in a city of this size certain measures must be taken, because a large population is often more of a problem than an advantage.

The Prime Minister also cited as great opportunities factors related to the city's industrial past: a trained workforce and the city's university.

In reply to a question regarding plans to connect Hungary's north-eastern industrial region to Poland's eastern industrial region by motorway, Mr. Orbán said that the Government believes the tight deadlines for completion of the Miskolc-Kosice section of the route can be kept to, and that this is important, as without this it will be impossible to link the industrial regions of Hungary and Poland.

The Prime Minister said that "We are not simply talking about an internal issue concerning Miskolc, but about a regional and strategic decision which will fundamentally influence the future success of the Hungarian economy: Poland's industrial region must be connected to Hungary's northern industrial region. This of course also requires that, in accordance with the current political treaties and the peace treaties concluded following the Second World War, we must pass through Slovakia. But […] it is the Slovakians who have performed the best in relation to this whole issue." Mr. Orbán highlighted the fact that Slovakia is making excellent progress in establishing this "industrial axis".

In reply to a question concerning what new industrial sectors might settle in Miskolc in the future, the Prime Minister said that at present there are several automotive industry investments on the table, and in relation to these foreign investors will choose between two or three Hungarian cities – one of which is Miskolc.

At the press conference, which was also attended by Minister of Human Capacities Zoltán Balog and Minister of National Development Miklós Seszták, Mayor of Miskolc Ákos Kriza said that the provisions assuring financing for the development phases planned this year for Miskolc have been published in the Hungarian Gazette.

These development projects are also aimed at helping Miskolc "to finally brush off the grey dust of the steel city and become one of Northern Hungary's dynamic, developing cities", the Mayor declared.

(MTI, Photo: Miklós Kobza)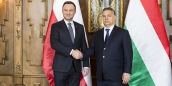 On Saturday morning, Prime Minister Viktor Orbán received President of Poland Andrzej Duda in Parliament.
In answer to questions from foreign journalists in Brussels on Friday, the second day of the summit of the European Union's heads of state and government, Prime Minister Viktor Orbán said that Hungary does not like double standards, and therefore does not support them being applied to anyone, including Poland.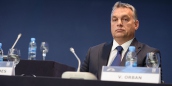 At a press conference in Brussels on Friday afternoon, in which he evaluated the agreement between the European Union and Turkey, Prime Minister Viktor Orbán said that Hungarian diplomacy has achieved its goals.