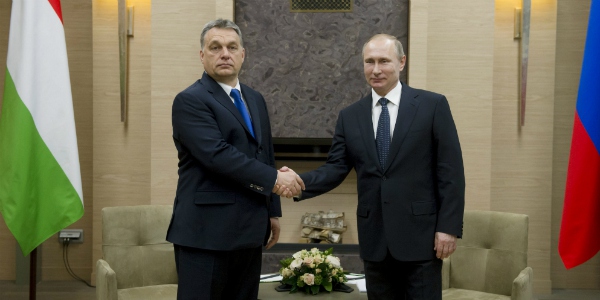 Normalised European-Russian relations are in Hungary's interest
17 February 2016
On Wednesday, following talks with President of Russia Vladimir Putin at his residence in Novo-Ogaryovo near Moscow, Prime Minister Viktor Orbán said that it is in Hungary's interest to see a normalisation of European-Russian relations.

The first minutes of the discussions were open to the press, during which time the Hungarian prime minister thanked the President of Russia for the efforts that "he has made for the sake of Russian-Hungarian friendship, even in difficult times".

Mr. Orbán said that "it might sound immodest, but we can say that the good things in our relationship are our achievements, but we are not responsible for the bad things."

Referring to President Putin's visit to Budapest exactly one year ago, Mr. Orbán said that "we have seen great progress on the issues we put on the table last year". He also said his wishes for Hungarian-Russian cooperation are that it remains as friendly as it is at present.

Greeting the Prime Minister, Mr. Putin expressed satisfaction at the quality of Russian-Hungarian relations. At the same time he confirmed that the trade volume between the two countries has decreased. "We are satisfied, in spite of the present problems and the decrease in trade volume; we are satisfied with the character of this relationship", he said.

Mr. Putin called Hungary Russia's "old and reliable partner". He added that "We are counting very much on the progress towards implementation of the plans we discussed at the time of my visit to Hungary last year".

After these statements the discussions continued behind closed doors. The one-on-one discussion was followed by a plenary session, after which Prime Minister Orbán and President Putin held a joint press conference.

Members of the Hungarian delegation visiting Russia included members of the Government: Minister of the Prime Minister's Office János Lázár, Minister of Foreign Affairs and Trade Péter Szijjártó and Minister for National Development Miklós Seszták.

Members of the Russian delegation included Minister of Foreign Affairs Sergey Lavrov, Minister of Industry and Trade Denis Manturov and Aide to the President Yuri Ushakov.

According to prior information received from the Kremlin, the parties will discuss possibilities for strengthening bilateral cooperation: the agenda featured possibilities for expanding trade and economic relations, for promoting joint projects in the field of applying high-tech solutions and for cultural cooperation.

Cabinet Office of the Prime Minister/MTI, Photo: Szilárd Koszticsák/MTI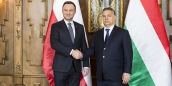 On Saturday morning, Prime Minister Viktor Orbán received President of Poland Andrzej Duda in Parliament.
In answer to questions from foreign journalists in Brussels on Friday, the second day of the summit of the European Union's heads of state and government, Prime Minister Viktor Orbán said that Hungary does not like double standards, and therefore does not support them being applied to anyone, including Poland.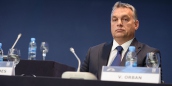 At a press conference in Brussels on Friday afternoon, in which he evaluated the agreement between the European Union and Turkey, Prime Minister Viktor Orbán said that Hungarian diplomacy has achieved its goals.