Prime Minister Viktor greets members of the Hungarian Jewish community on the Festival of Lights
7 December 2015
Prime Minister Viktor Orbán has written a letter to mark Hanukkah, the Jewish Festival of Lights, addressed to President of the Hungarian Autonomous Orthodox Jewish Religious Community Eduárd Deblinger, Head of the Unified Hungarian Jewish Congregation Slomó Köves and President of the Federation of Hungarian Jewish Communities András Heisler. In the letter, the Prime Minister wrote that "During these days we remember God's miracles, and by lighting more and more candles we show that the time for celebration, thanksgiving and joy has come".

In his letter to the Jewish community the Prime Minister wrote that he is especially grateful for the fact that "in addition to the words of the Old Testament and our shared cultural origins, we are also connected by our home and the tradition of lighting candles at the end of the year".

(Prime Minister's Office)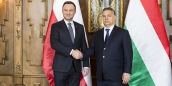 On Saturday morning, Prime Minister Viktor Orbán received President of Poland Andrzej Duda in Parliament.
In answer to questions from foreign journalists in Brussels on Friday, the second day of the summit of the European Union's heads of state and government, Prime Minister Viktor Orbán said that Hungary does not like double standards, and therefore does not support them being applied to anyone, including Poland.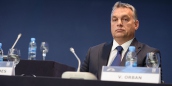 At a press conference in Brussels on Friday afternoon, in which he evaluated the agreement between the European Union and Turkey, Prime Minister Viktor Orbán said that Hungarian diplomacy has achieved its goals.