Prime Minister Viktor Orbán's press statement following his talks with President of Russia Vladimir Vladimirovich Putin
17 February 2016
17 February 2016, Novo-Ogaryovo
Mr. President, Ladies and Gentlemen,

We have just concluded a long and successful discussion. Russia and Hungary have established a political tradition in which issues related to the two countries' cooperation are reviewed once a year at the highest level. This is what we have done today. As the President has said, we talked about a number of issues. In my opinion our relationship is developing well, which is a true miracle considering that we have to improve our relations year by year in a clearly unfavourable international environment. The fact that we have been successful in this is a result of our sense of responsibility. As for my responsibility, the situation is quite clear. You have heard from the President that Russia's energy exports and the energy needed for the operation of Hungarian industry are so interlinked that they are almost impossible to separate from each other. Without good economic relations between Russia and Hungary, the Hungarian economy and Hungarian industry will simply be unable to function. We both see the responsibility in this, and therefore we are making efforts – in the interest of Hungarians – to establish good economic relations.

We have made it clear today – and it is also my conviction – that Russia is not Hungary's enemy, but one of its partners. Russia is not threatening our country; it is offering the opportunity for cooperation as partners, which is a precondition for our economic success. We also agreed that it is in the joint interest of Hungary and Russia to see Europe's security strengthened and relations between the European Union and Russia normalised. Moreover, we can also confirm that in the most important global political issues Russia cannot be ignored. Thank you, Mr. President, for the arguments with which you have outlined the role played by you in resolving the crisis in the Middle East, and your plans for the future. We highly appreciate these, as all Europe – including Hungary – is suffering from the effects of the migrant crisis. Furthermore, we appreciate all efforts – including Russia's efforts – aimed at resolving the situation of crisis areas, in order to halt flows of migrants. On this issue we wish international efforts every success.

Concerning bilateral relations, I would like to point out that we have made progress in all fields, with the exception of the aforementioned negative trade figures. The latter, however, are the fault of neither Hungary nor Russia: they are a result of an unfavourable international environment. It is clear that the Hungarian economy has received important opportunities in recent years. There continue to be opportunities in Russia for the Hungarian pharmaceutical industry; in fact they have improved. The President has also mentioned Richter Gedeon. We are happy and proud that the Hungarian pharmaceutical industry can contribute to the development of Russian health care.

I would like to note that Hungary still considers the agreement on the Paks enlargement project to be the deal of the century. We regard international disputes on this issue as being unjustified. We have been cooperating since the 1960s, and all we have done now is to extend this agreement, within which we will replace the existing blocks. So instead of judging Russia, we ought to thank it for its willingness to extend into the future the agreement signed in the 1960s. I would like to point out that we have great hopes that the Hungarian automobile and machinery industries will be able to establish cooperation with leading Russian companies.

Finally I would like to emphasise the importance of the fact that Hungary has offered two hundred state-funded scholarships to Russian students. Thank you for ensuring that this quota is being filled on schedule – or indeed ahead of schedule. It is my firm belief that if we want to place long-term Russian-Hungarian relations on stable foundations, we have to create a situation in which younger generations know and respect each other; only this can provide long-term solid foundations for cooperation between Russia Hungary. For this we need students, scholarships and exchange programmes, and we need to get to know each other. I am happy that today we have made an important step in this direction, in the direction of the future.

Thank you!

Cabinet Office of the Prime Minister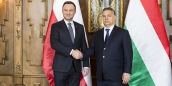 On Saturday morning, Prime Minister Viktor Orbán received President of Poland Andrzej Duda in Parliament.
In answer to questions from foreign journalists in Brussels on Friday, the second day of the summit of the European Union's heads of state and government, Prime Minister Viktor Orbán said that Hungary does not like double standards, and therefore does not support them being applied to anyone, including Poland.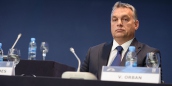 At a press conference in Brussels on Friday afternoon, in which he evaluated the agreement between the European Union and Turkey, Prime Minister Viktor Orbán said that Hungarian diplomacy has achieved its goals.