Prime Minister Viktor Orbán's Speech at the Re-inauguration of the István Tisza Statue Group
9 June 2014
Prime Minister unveiled statue of István Tisza, 09 June 2014, Budapest.

Respected Speaker, Right Reverend Bishops, Respected Prime Minister, Dear Tisza Family, Ladies and Gentlemen,

The nation's main square will be renewed – this is the promise that the Government made a few years ago to the people of Hungary, who had had enough of the fact that Kossuth Square had shamefully become a cordoned off car park. Now, thanks be unto God, every Hungarian and the foreign guests who visit our country too can see in its reality what we set out to achieve when we embarked on this huge undertaking. What we undertook was to complete what our forefathers had envisioned for Budapest, in front of and around Kossuth Square. To complete it because we have the capacity to complete it. We have always had the will to do so, and we acquired the strength to do so from you, the electorate.

Ladies and Gentlemen,

Erecting a public statue always bears with it an intrinsic meaning beyond the statue itself. There is a reason why revolutions and world wars often begin with the toppling of statues. And if the toppling of a statue often means the end of an era, then the erecting of a statue often represents the beginning of a new era. In our case, we very much hope, it represents the beginning of the new era for which today's government has been working continuously and with persistent effort since 2010. Over the space of four years we have reinstated Hungary's honour and sowed the foundations that make it possible to again speak about a Hungarian future within 21st century Europe. About a future that looked to be lost on several occasions during the course of the 20th century. For the first time precisely when István Tisza announced in Parliament that we had lost the war that had broken out because of the interests of others, but which we had fought for our own survival.

Ladies and Gentlemen,

The monumental sculpture composition erected on 22 April 1934 to commemorate István Tisza became much more intertwined with the fate of the Hungarian Prime Minister than the statue's creators had originally expected. Just as the monarchy, which for half a century had meant the world and the age of development to Hungary, disintegrated in October 1918, so too did the group of statues erected in commemoration of István Tisza fall to pieces after 1945. The first tragedy began with the murder of István Tisza, and the second with the toppling of his statue. This not only shows that the true formers of Hungarian history often become martyrs, but also that there are people whom it is not enough to murder once. The snake that ended István Tisza's life in 1918 then bit his memory a good quarter of a century later. And all because Tisza believed that a party that stands on the side of work does not necessarily have to be communist or socialist, but can just as easily be national, and can be called the National Work Party, for instance. He also saw, and raised his voice and in fact declared battle against, the way in which the propagators of liberalist and socialist ideals disregard and view as old-fashioned politics based on the nation. In contrast, Tisza viewed the solidarity between the various constituents of the nation as something that was capable of bridging the differences between social classes. In his opinion, and I quote: "A nation is strongest the happier it is and the more intellectual and especially moral strength exists in its members". End of quote. When he began his service as Prime Minister, however, he inherited a castle that was already under siege from all quarters, and in which he had to complete the course that was set out for him like an athlete of politics. The inheritance of the great generation of the Reform Era – Kossuth, Széchényi and Deák – had been eroded by then. Despite this, he trusted in the fact that the dualist system, and within it the leading role played by the Hungarian nation, could be saved through lots of hard work and prudent politics, and that as a well-trained hurdler and with the help of God, he could jump over every obstacle.

Ladies and Gentlemen, Respected Speaker,

Today, when self-proclaimed democrats are protecting democracy from us and criticise us heavily in the name of some cloudy concept of Europeanness, simply because we are not prepared to accept what Brussels bureaucrats tell us in the name of Europe, we too can say the same thing as István Tisza, and I quote: "We openly confess that we stand on national foundations." And he continues: "According to the hypermodern, we are nationalists. Because they no longer speak about national criteria, only about nationalist prejudices. We care nothing about the advancement of the whole of humanity if that is not linked to the advancement, prosperity and greatness of the Hungarian nation. And what assured the future of the Hungarian nation throughout an uncertain millennium was that it learned all of the West's accomplishments, but only transposed their healthy offshoots into the soil of national life and was able to impress upon them the stamp of its national character, special circumstances, interests and approach." End of quote.

Ladies and Gentlemen,

In addition, we also openly confess that we stand not only on national foundations, but also on the side of freedom. We profess together with István Tisza, and I quote him once again, that: "one of the great, difficult and glorious eras of the advancement of nations was the achievement of freedom. The second, perhaps less glorious era that seizes the imagination to a lesser extent, but is perhaps even more important, is the correct application of freedom. And we know that the nations that were capable of achieving freedom for themselves also face other challenges. The truly great task that history faces nations with is to be able to apply this freedom wisely; that they should not put it at risk by playing frivolous games with freedom or frivolously abusing it; that they should not lose what their fathers have acquired through blood."

Ladies and Gentlemen,

As we approach the one-hundredth anniversary of the breaking out of World War One, it is also important that we remember that at first István Tisza said no to war, although all around him were enthusiastically nodding. In contrast to many of his contemporaries, he recognised that the system of dualism was standing on clay legs, and that if this building that had been constructed on momentary compromises were to collapse, then we, the Hungarians would be the first to be crushed by it. He saw no chance of winning a war of global proportions, but he did see a chance of not losing it. He was one of very few people who recognised that in the short term, the only alternative to the monarchy was anarchy, and that this would lead to the disintegration of Hungary. And we Hungarians marched enthusiastically into a war that could only cause us loss, and which was the result of the death of an heir to the throne who didn't represent our interests at all in the Monarchy. It seems like a whim of fate that while the first shot of the War killed a man who had never represented the interests of the Hungarian people, the last shot killed a man who had spent his whole life protecting the interests of the Hungarian people. Those people who marched off to war for a Franz Ferdinand who despised them, took revenge on István Tisza four years later.

It is an enticing idea whether this is truly the way things had to be in the chaos following the war. The Calvinistic István Tisza, who experienced everything that Protestantism had always meant to Hungary and to the Hungarian people with true faith, died on the day of remembrance for the reformation. He did not try to escape fate in October of 1918 when, just like Martin Luther in Worms, he stood there as if that was the only thing he could imagine doing. When he was inaugurated as a Calvinist curator, he professed, and I quote: "A Christian is one who humiliates himself before God, but who lives in a strong alliance with his God and whose belief in God's mercy raises him above the vanities, doubts, temptations and hardships of this world. A Christian is one who is aware of life's great difficulties and who fulfils his mission, fights the battles of life and accepts what fate has in store for him in acceptance of God's will". End of quote.

Ladies and Gentlemen,

Can fate provide us with any greater gift than that it is we who can reinstate the Memorial to István Tisza today? Is it not a privilege to experience, to experience in an active way, moments such as this? Is it an exaggeration, is it unjustified, is it perhaps a mirage-like hope to think that if the murder of Tisza and the destruction of his memorial both meant the end of a nation-losing era, then its re-inauguration can perhaps be a symbol of the beginning of a new era of nation-building? Why shouldn't great opportunities, great deeds, great ancestors and great determination add together to produce a nation-uniting era? Why shouldn't a disintegrated liberal era be followed by a prosperous and inspirational national era, and why should it be impossible that Providence has chosen us, the Hungarians of today, to achieve this? Whatever the case, there is one thing that we can state with certainty: today we have done something that future patriots can recall with pride.

Tribute, respect, honour and gratitude to István Tisza, the Prime Minister of the Hungarian people!


Prime Minister's Office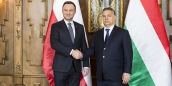 On Saturday morning, Prime Minister Viktor Orbán received President of Poland Andrzej Duda in Parliament.
In answer to questions from foreign journalists in Brussels on Friday, the second day of the summit of the European Union's heads of state and government, Prime Minister Viktor Orbán said that Hungary does not like double standards, and therefore does not support them being applied to anyone, including Poland.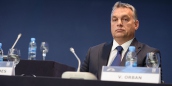 At a press conference in Brussels on Friday afternoon, in which he evaluated the agreement between the European Union and Turkey, Prime Minister Viktor Orbán said that Hungarian diplomacy has achieved its goals.