Prime Minister Viktor Orbán to hold talks in Sofia, Jakarta, Prague, Moscow and Brussels in the coming weeks
27 January 2016
Prime Minister Viktor Orbán will have a busy international schedule in the coming weeks: on Friday, he will hold talks with the Prime Minister of Bulgaria in Sofia, and in the first few days of February, he will travel to Jakarta to discuss economic, educational and cultural relations with President of Indonesia Joko Widodo. On 15 February, Mr. Orbán will attend the extraordinary summit of the prime ministers of the Visegrád countries announced by the Prime Minister of the Czech Republic on Tuesday.

According to current plans, on 17 February, the Prime Minister will visit Moscow, where he will hold talks with President of Russia Vladimir Putin, and on 18-19 February, he will attend the summit of the European Council in Brussels to discuss Britain's EU membership and the issue of migration. As the programmes are still under preparation, there may be changes the Prime Minister's agenda.

Cabinet Office of the Prime Minister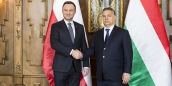 On Saturday morning, Prime Minister Viktor Orbán received President of Poland Andrzej Duda in Parliament.
In answer to questions from foreign journalists in Brussels on Friday, the second day of the summit of the European Union's heads of state and government, Prime Minister Viktor Orbán said that Hungary does not like double standards, and therefore does not support them being applied to anyone, including Poland.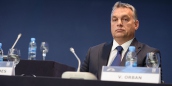 At a press conference in Brussels on Friday afternoon, in which he evaluated the agreement between the European Union and Turkey, Prime Minister Viktor Orbán said that Hungarian diplomacy has achieved its goals.