Prime Minister Viktor Orbán to pay official visit to Indonesia
30 January 2016
Viktor Orbán, the Prime Minister of Hungary is travelling to Indonesia for a three-day official visit on Saturday afternoon. From among members of the Government, the delegation travelling with the Prime Minister includes Minister of Foreign Affairs and Trade Péter Szijjártó, Minister of National Economy Mihály Varga, Minister for National Development Miklós Seszták and Minister of Agriculture Sándor Fazekas, Bertalan Havas, head of the Prime Minister's Press Office informed miniszterelnok.hu.

In outlining the main features of the programme of the visit, the press chief said: Mr Orbán will lay a wreath at the Kalibata Heroes Cemetery in Jakarta to pay tribute to Indonesia's national heroes, and will later conduct talks with Joko Widodo, the President of Indonesia.

Following the meeting with the President, the representatives of the Hungarian and Indonesian Governments will sign cooperation agreements, inter alia, on a higher education exchange programme for the next few years and cooperation in the fields of fisheries and aquaculture.

Mr Orbán will also have talks with Le Luong Minh, Secretary General of the Association of Southeast Asian Nations (ASEAN)

The Prime Minister will attend a business forum in the company of Indonesian Vice-President Jusuf Kalla where conventions and agreements will be signed by the chambers of commerce and industry of the two countries as well as by Hungarian and Indonesian companies active in the field of public services. The Prime Minister's delegation will also visit the city of Yogyakarta where the Prime Minister will meet with Sri Sultan Hamengkubuwono X, Governor of the Yogyakarta Special Region, Bertalan Havas informed miniszterelnok.hu.

Cabinet Office of the Prime Minister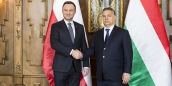 On Saturday morning, Prime Minister Viktor Orbán received President of Poland Andrzej Duda in Parliament.
In answer to questions from foreign journalists in Brussels on Friday, the second day of the summit of the European Union's heads of state and government, Prime Minister Viktor Orbán said that Hungary does not like double standards, and therefore does not support them being applied to anyone, including Poland.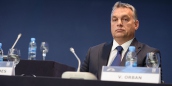 At a press conference in Brussels on Friday afternoon, in which he evaluated the agreement between the European Union and Turkey, Prime Minister Viktor Orbán said that Hungarian diplomacy has achieved its goals.