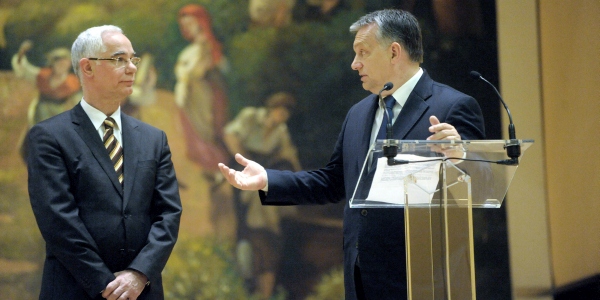 The migrant crisis does not change Hungary's openness in its education policy
10 December 2015
At a reception in Budapest on Thursday held for students participating in the Stipendium Hungaricum scholarship programme, Prime Minister Viktor Orbán said that the migrant crisis does not change Hungary's openness in its education policy: "we continue to welcome foreign students, and shall extend" the Stipendium Hungaricum scholarship programme.
The Prime Minister stressed that the students participating in the programme have all arrived in Hungary in a legal way, observe the laws of the country, and their relationship with the Hungarian people is characterised by mutual respect.

Addressing students from Muslim countries, the Prime Minister highlighted that politics in Hungary is based on Christian roots, and Christian teachings forbid anti-Muslim sentiments; consequently, "we reject any such policy".
Mr. Orbán also stated that the Stipendium Hungarian scholarship programme will be extended: at present students may come to Hungary from forty-five countries, but the Hungarian government wishes to extend this number to eighty. He added that the Government has placed the necessary funding at the disposal of the relevant ministry.

Mr. Orbán highlighted that Hungary takes a firm and decisive stance on migrant affairs and rejects the uncontrolled and unregulated influx of migrants, but while it will maintain this policy, it continues to welcome foreign students in Hungary.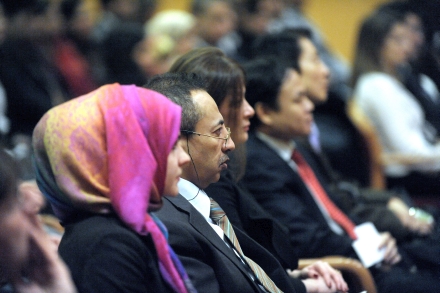 "You are safe here and you are under our protection according to the rules applying to guests," he said.
The Prime Minister reiterated that it is a tradition dating back to communist times according to which Hungary provides an opportunity for foreign students to study here. Chinese-Hungarian relations have always been good, but Hungary also maintains excellent educational relations with a number of Arab countries; this is an inheritance which is worth nurturing. He stressed that Hungary will continue its policy of Eastward Opening.

Several leading politicians delivered speeches at the meeting organised at the Italian Institute for the foreign students participating in the Stipendium Hungaricum scholarship programme. Mr. Orbán said that the intention is to create a tradition with this event.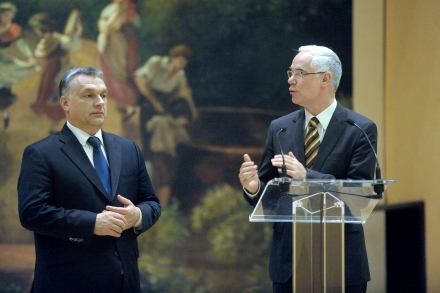 In his speech, Minister of Human Capacities Zoltán Balog reiterated that the Hungarian government launched the Stipendium Hungaricum programme in 2013 as part of the policy of Eastward Opening, and since then 1,653 students have started studies within the framework of the programme. Quoting the writer Sándor Márai, he stressed that Hungary must fix its gaze towards the West, but must not forget its eastern origins.

The State Secretary for Higher Education also addressed the students. László Palkovics later told Hungarian news agency MTI that, as part of the programme, the Government would like to increase the number of foreign students studying in Hungary to 3,000 by 2016 and to 5,000 by 2017.
The Stipendium Hungaricum scholarship programme is financed by the Hungarian Government, and at present provides extra funding to universities worth some HUF 4 billion. This sum may increase to HUF 9 billion next year, and to HUF 17 billion by 2017, the State Secretary said.

József Bódis, Rector of the Pécs University of Sciences, and President of the Hungarian Rectors' Conference, said that the number of foreign students studying at Hungarian universities is increasing. At present there are some 22,000 foreign students among the more than 200,000 students in Hungary.

(Text: Cabinet Office of the Prime Minister, Photo: Gyula Bartos)
Prime Minister Viktor Orbán's speech at the welcome ceremony for Stipendium Hungaricum scholarship holders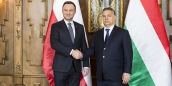 On Saturday morning, Prime Minister Viktor Orbán received President of Poland Andrzej Duda in Parliament.
In answer to questions from foreign journalists in Brussels on Friday, the second day of the summit of the European Union's heads of state and government, Prime Minister Viktor Orbán said that Hungary does not like double standards, and therefore does not support them being applied to anyone, including Poland.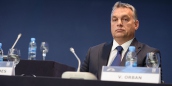 At a press conference in Brussels on Friday afternoon, in which he evaluated the agreement between the European Union and Turkey, Prime Minister Viktor Orbán said that Hungarian diplomacy has achieved its goals.