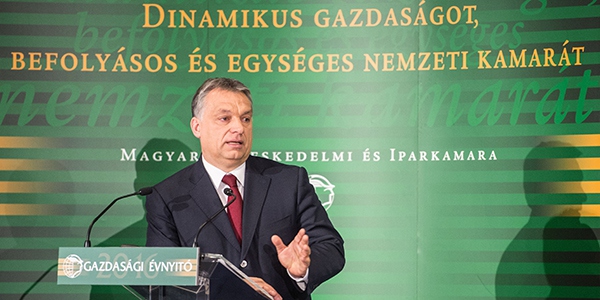 Government to introduce new decision-making mechanism for EU calls for proposals
10 March 2016
At the Hungarian Chamber of Commerce and Industry's business year-opening event, Prime Minister Viktor Orbán announced that the Government is introducing a new decision-making mechanism for EU calls for proposals. The Prime Minister also said that warding off the threat of migration may result in an enormous competitive advantage.
Outlining a decision adopted by the Cabinet the previous day, the Prime Minister said that a new decision-making mechanism will be introduced for EU calls for proposals. Based on this, the former outsourced decision-making system will be phased out, and a public list will be released of a group of call assessors comprised of state administration employees, who volunteer for these tasks in return for additional salary. The Prime Minister said that this mechanism – in which these officials will assess all proposals – will be faster and more transparent.
Regarding EU funds, Mr. Orbán confirmed his position that Hungary does not owe a debt of gratitude for the EU funds provided to the country. This is not a gift, but a "well-conceived joint business interest", he said.

He also said that the Government has launched Europe's largest industrial park development programme. Over a period of 30 to 36 months an estimated HUF 150 billion will be invested in construction of new industrial parks and enlargement of existing ones.

Mr. Orbán also mentioned young Hungarians living abroad, saying that it is simply impossible to prevent adventurous and enterprising young people going abroad. In his view, the question is whether they will return to their native land. In order to achieve this, we need some "nous" and good economic policy, he said.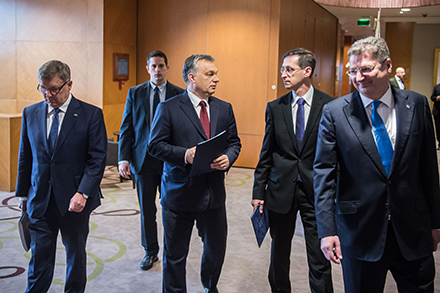 Evaluating the current political context, the Prime Minister said that it is fundamentally favourable to business, the market, growth, employment and competitiveness. Even the European Commission has said that there is no financial imbalance in Hungary, he remarked; at the same time, he noted that across Europe a succession of socialist governments have come to power, and this will have consequences for economic balance. He mentioned Portuguese economic figures as an example.

The Prime Minister again pointed out that Hungarian economic policy must select the best solutions from around the world, and must use this as the basis for the best possible Hungarian economic model. In his view, however, in this "the mentality referred to as 'Western mainstream' restricts our actions and ambitions". At the same time, Mr. Orbán remarked that "there is even greater pressure to adopt mainstream solutions" in Western public discourse than in Hungary, meaning that "we are better off than they are" in terms of freedom of debate.
Mr. Orbán raises the prospect of conversion of benefit vouchers into cash

The Prime Minister said that the European Commission has "destroyed" the Hungarian benefit voucher system, and therefore it is necessary to consider the possibility of making the "concealed" dual remuneration system more open. In such a system "there is a basic salary, which is subject to the normal state contributions, and beyond this there is another sum which is exempt from such contributions", he said.

"Let us begin by immediately converting benefit vouchers into cash from 1 January 2017", he said. Mr. Orbán believes that "if the EU decision means that the benefit voucher scheme cannot be maintained, it would be simpler for us to provide these benefits in cash".

He remarked that today this is the only method which permits a pay rise in excess of economic growth, but it must be accepted that this amount will not count towards peoples' pensions.

Mr. Orbán said he believes that in such a dual remuneration system there could be a risk that "innovative Hungarian entrepreneurs may push" basic salary into the second category.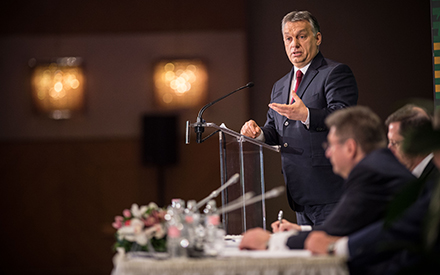 There are still some who are not even participating in public works

Regarding the public works programme, the Prime Minister drew attention to the fact that there are still eligible people – some 200,000 – who are not even participating in public works projects, despite the fact that in 2017 Hungary's budget will be able to raise sufficient funds to provide jobs for everyone.

Therefore a new form of employment will need to be introduced, with even lower requirements for those who are not fit enough to find jobs in the current public works projects, he said.

Among the secondary benefits of public works, Mr. Orbán mentioned that fewer people are involved in criminal activity, fewer people are in prisons, and children who see their parents go to work every morning are growing up in a different environment.
The state should only be allowed to borrow for development purposes

The Prime Minister asked the Minister for National Economy Mihály Varga to seek to draft a budget for 2017 in which borrowing is only be permitted for development purposes, with the state not being allowed to spend more than the funds at its disposal on operating and maintenance costs.

By "dividing in two" next year's budget – through the separation of operating and maintenance expenditure from development expenditure – the Prime Minister said that in one to two years' time we may reach a point at which the entire budget is "a genuinely zero budget": one in which there is no deficit – or, if anything, there is a surplus.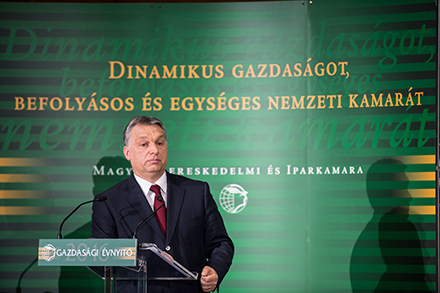 In his words, the way to achieve a reduction in the country's sovereign debt in absolute terms is that "We do not spend more than our revenues allow". Among the interests for the Hungarian economy, the Prime Minister mentioned raising Hungary's economic growth rate to above 3 per cent. In his view, Hungary should try "to raise the rate of growth to the level of 3 per cent" by the end of this year.
He also spoke about the reduction of bureaucracy. In this context it is necessary to make clear, he said, that "we need everyone: bureaucrats included, only not where they have worked so far", but in the productive economy.

Regarding wages, he confirmed that there must be economic reserves behind pay rises.

At the end of his speech, Mr. Orbán took stock of potential threats, mentioning migration among these. In his view, warding off this threat may result in an enormous competitive advantage. Another threat is EU stagnation, which is a fact we must adjust to, he said.

MTI, Photo: Gergely Botár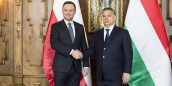 On Saturday morning, Prime Minister Viktor Orbán received President of Poland Andrzej Duda in Parliament.
In answer to questions from foreign journalists in Brussels on Friday, the second day of the summit of the European Union's heads of state and government, Prime Minister Viktor Orbán said that Hungary does not like double standards, and therefore does not support them being applied to anyone, including Poland.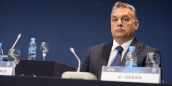 At a press conference in Brussels on Friday afternoon, in which he evaluated the agreement between the European Union and Turkey, Prime Minister Viktor Orbán said that Hungarian diplomacy has achieved its goals.