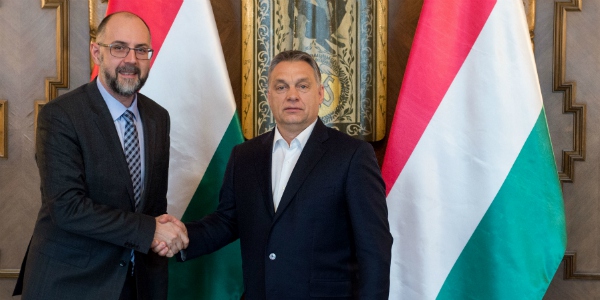 Prime Minister Viktor Orbán and President of the RMDSZ Hunor Kelemen hold talks on programmes aimed at strengthening the identity of Hungarians in Transylvania
1 March 2016
On Monday Prime Minister Viktor Orbán and President of the Democratic Alliance of Hungarians in Romania (RMDSZ) Hunor Kelemen held talks in Parliament. They stated that it is important that Hungarians in Transylvania emerge from the domestic affairs disputes accompanying the Romanian elections scheduled for this year in a stronger position, and that this is also reflected in their representation in local governments and in Parliament.
Mr. Kelemen presented the Prime Minister with the most important draft development programmes aimed at preserving the identity of Hungarians in Transylvania and at vitalising cultural life there.
Mr. Orbán assured the party's president of his support for their objectives, including, for example: the establishment of a higher education residential college and a community space for dispersed Hungarian communities in Timișoara (Temesvár); the completion of work on the Téka Boarding School for socially-disadvantaged students from the Transylvanian Plain; the establishment of an ice hockey academy in Ținutul Secuiesc (Székelyföld); and the collection of further pieces for the Transylvanian Arts Centre in Sfântu Gheorghe (Sepsiszentgyörgy).
Cabinet Office of the Prime Minister; Photo: Gergely Botár/kormany.hu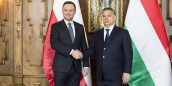 On Saturday morning, Prime Minister Viktor Orbán received President of Poland Andrzej Duda in Parliament.
In answer to questions from foreign journalists in Brussels on Friday, the second day of the summit of the European Union's heads of state and government, Prime Minister Viktor Orbán said that Hungary does not like double standards, and therefore does not support them being applied to anyone, including Poland.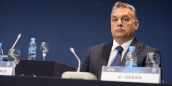 At a press conference in Brussels on Friday afternoon, in which he evaluated the agreement between the European Union and Turkey, Prime Minister Viktor Orbán said that Hungarian diplomacy has achieved its goals.