Prime Minister Viktor Orbán holds talks in Brussels with President of Ukraine Petro Poroshenko
17 March 2016
Before a meeting of the European People's Party in Brussels, Prime Minister Viktor Orbán held talks with President of Ukraine Petro Poroshenko.
At their meeting, the two politicians reviewed the challenges faced by Europe and the state of Hungarian-Ukrainian bilateral relations.
The Prime Minister asked President Poroshenko to enable the Ukrainian state to contribute towards faster implementation of the Transcarpathian development programmes supported by the Government of Hungary.
He also emphasised the importance of visa-free travel in the EU for Ukrainian citizens. According to the Prime Minister, Ukraine should be the first in line to receive this opportunity from the EU.
After the summit of the European People's Party – the EU parliamentary group which includes Fidesz – Mr. Orbán will attend a meeting of prime ministers from the Visegrád Group; after this he will attend the EU migration summit, which is scheduled to start at 4 p.m. today.
Cabinet Office of the Prime Minister/MTI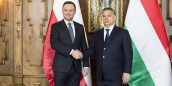 On Saturday morning, Prime Minister Viktor Orbán received President of Poland Andrzej Duda in Parliament.
In answer to questions from foreign journalists in Brussels on Friday, the second day of the summit of the European Union's heads of state and government, Prime Minister Viktor Orbán said that Hungary does not like double standards, and therefore does not support them being applied to anyone, including Poland.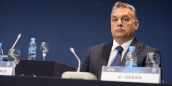 At a press conference in Brussels on Friday afternoon, in which he evaluated the agreement between the European Union and Turkey, Prime Minister Viktor Orbán said that Hungarian diplomacy has achieved its goals.