Prime Minister Viktor Orbán to discuss the migration crisis in Sofia
28 January 2016
On Thursday night Prime Minister Viktor Orbán will travel to the capital of Bulgaria.
On Friday he will hold talks with his Bulgarian counterpart Boyko Borissov on strengthening Hungarian-Bulgarian relations; they will also discuss challenges facing the EU, including the issue of migration. Following their meeting the two prime ministers will hold a joint press conference.
In an interview with public broadcaster Magyar Rádió the Prime Minister said that a new European line of defence must be established along the borders between Bulgaria and Greece, and Macedonia and Greece. He emphasised the importance of admitting Bulgaria into the Schengen Area, "because it has fought well, and has complied with all its treaty obligations".
Cabinet Office of the Prime Minister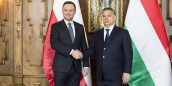 On Saturday morning, Prime Minister Viktor Orbán received President of Poland Andrzej Duda in Parliament.
In answer to questions from foreign journalists in Brussels on Friday, the second day of the summit of the European Union's heads of state and government, Prime Minister Viktor Orbán said that Hungary does not like double standards, and therefore does not support them being applied to anyone, including Poland.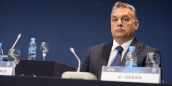 At a press conference in Brussels on Friday afternoon, in which he evaluated the agreement between the European Union and Turkey, Prime Minister Viktor Orbán said that Hungarian diplomacy has achieved its goals.