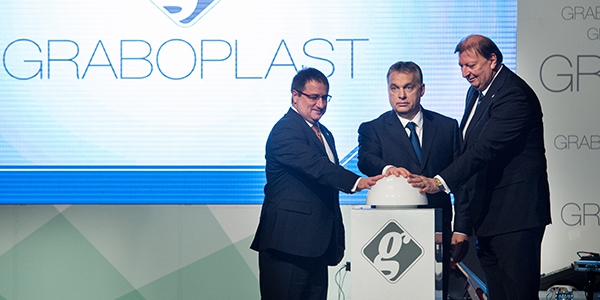 The Government is supporting Hungarian capital
4 February 2016
Speaking in Tatabánya at the inauguration of the new Graboplast factory, which produces luxury-quality vinyl flooring, Prime Minister Viktor Orbán said that "The Government is supporting Hungarian capital and, bearing in mind the country's size, the road to success leads through exports".
In his speech the Prime Minister said that the Győr-based company has outgrown the European market and has taken another step towards becoming a global enterprise; he added that the Government has provided 3 billion forints (EUR 9.6M) in funding from the central budget to support the company's development programme. Graboplast has undertaken to create 120 new jobs as a result of the projects.
"To the Government, industrial policy is a national issue which cannot be conducted on a party political basis", Mr. Orbán said, adding that 1200 billion forints (EUR 3.85bn) in national and European Union funding will become available to Hungarian enterprises in the coming years.
The Prime Minster declared that if a country wants to feel secure, it must have a significant domestic industrial base.
In his speech, President of Wallis Zrt. Tibor Veres said that the company has been Graboplast's majority owner for the past 16 years, during which time they have invested 21 billion forints and reinvested three and a half per cent of turnover each year to fund research and development.
President and CEO of Graboplast Péter Jancsó told reporters that in 2015 the company generated 18 billion forints (EUR 57.7M) in turnover. The vinyl sports flooring the company manufactures has been used in some 1700 sports halls worldwide. The total quantity of vehicle flooring produced by the company in 2015 would be enough for 21000 buses. The company's products can be found in underground trains in Shanghai and Rio, in Stadler electric trains and in Budapest's Combino trams, Mr. Jancsó said.
Thanks to the new factory in Tatabánya, Graboplast will now be capable of manufacturing omnidirectional homogeneous flooring. Flooring of this kind comprises a single layer of material and is therefore extremely durable. Homogeneous flooring is primarily used in healthcare facilities and public buildings, where it needs to withstand extremely heavy use.
In addition to the new plant in Tatabánya, in November 2015 as part of the development project Graboplast also launched an investment programme worth one billion forints (EUR 3.2M) at its parquet flooring factory in Kecskemét.
In the 110 years since Graboplast was founded, it has grown to become one of Europe's leading manufacturers of specialised flooring. In 2015 the Hungarian-owned Győr-based company achieved 47.7 million euros in turnover, more than 90 per cent of which was generated by exports.
In addition to manufacturing domestic flooring products, at its factories in Győr and Tatabánya Graboplast also manufactures specialised flooring products it has developed independently, as well as parquet flooring and laminated flooring in Kecskemét. The company employs more than 600 people in total.
(Cabinet Office of the Prime Minister/MTI)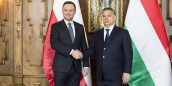 On Saturday morning, Prime Minister Viktor Orbán received President of Poland Andrzej Duda in Parliament.
In answer to questions from foreign journalists in Brussels on Friday, the second day of the summit of the European Union's heads of state and government, Prime Minister Viktor Orbán said that Hungary does not like double standards, and therefore does not support them being applied to anyone, including Poland.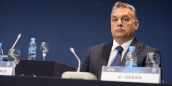 At a press conference in Brussels on Friday afternoon, in which he evaluated the agreement between the European Union and Turkey, Prime Minister Viktor Orbán said that Hungarian diplomacy has achieved its goals.