The US government did put pressure on Hungary in relation to the Hóman statue, but instead of helping, this only hindered progress to a solution
28 January 2016
The US Government did put pressure on Hungary in relation to the statue of Bálint Hóman, but Prime Minister Viktor Orbán strongly objected to this behaviour.

In general, he said, pressure coming from abroad only hinders progress towards solutions to problems, and this was also exactly what happened in relation to the Hóman statue. The Prime Minister's position is that an attempt of this nature by the American government was ill-advised.

Cabinet Office of the Prime Minister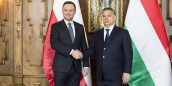 On Saturday morning, Prime Minister Viktor Orbán received President of Poland Andrzej Duda in Parliament.
In answer to questions from foreign journalists in Brussels on Friday, the second day of the summit of the European Union's heads of state and government, Prime Minister Viktor Orbán said that Hungary does not like double standards, and therefore does not support them being applied to anyone, including Poland.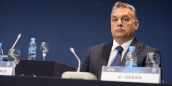 At a press conference in Brussels on Friday afternoon, in which he evaluated the agreement between the European Union and Turkey, Prime Minister Viktor Orbán said that Hungarian diplomacy has achieved its goals.