Ultramarathon runner Szilvia Lubics receives Hungarian Medal of Honour
1 February 2016
The Prime Minister's press chief Bertalan Havasi has announced that "Three-time Spartathlon- and two-time Ultrabalaton-winning long distance and ultramarathon runner Szilvia Lubics has been awarded the Hungarian Medal of Honour. The 41-year-old athlete was presented with the state decoration by Prime Minister Viktor Orbán".
According to Mr. Havasi's statement, the athlete was nominated for the award "in recognition of her exceptional performance in the field of long distance running, both in Hungary and internationally – which requires unique endurance and spirit – and for her remarkable career based on the successful unity of family, profession and sport".
On his official Facebook page, Prime Minister Viktor Orbán wrote: "The public was not only amazed at the news of the almost transcendent performances in competition by Szilvia Lubics, but also because of something seen extremely rarely: a harmony between sport, family, and profession. She has not sacrificed her family life and professional advancement for her sporting career, and has not given up her sport for professional success and family happiness. She has successfully pursued all three, and has thus proved that vast distances can also be overcome in real life".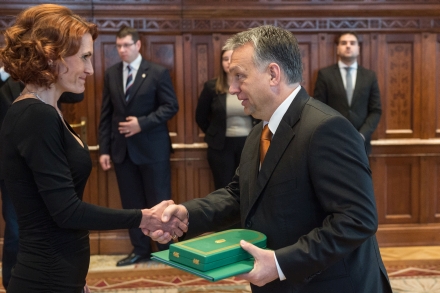 Szilvia Lubics won the legendary Spartathlon – a 246-kilometre race from Athens to Sparta – in 2011, 2013 and 2014, as well as the more than 200-kilometre Ultrabalaton race around Lake Balaton in 2011 and 2012. She is a five-time Hungarian champion, a mother of three and a full-time dentist. In addition to her running success, she regularly gives motivational presentations and is a frequent guest at charity events.
The Hungarian Medal of Honour may be awarded by the President of the Republic in recognition of exceptional service or courage performed in the interests of the nation. The decoration was first presented on 23 October 2012 to retired schoolteacher Mrs. Aladár Tamás (née Ilona Szűcs) for her many years of service within the Hungarian community in southern Slovakia.
Prime Minister's Office; Photo: Gergely Botár/kormany.hu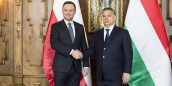 On Saturday morning, Prime Minister Viktor Orbán received President of Poland Andrzej Duda in Parliament.
In answer to questions from foreign journalists in Brussels on Friday, the second day of the summit of the European Union's heads of state and government, Prime Minister Viktor Orbán said that Hungary does not like double standards, and therefore does not support them being applied to anyone, including Poland.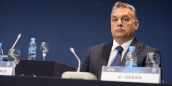 At a press conference in Brussels on Friday afternoon, in which he evaluated the agreement between the European Union and Turkey, Prime Minister Viktor Orbán said that Hungarian diplomacy has achieved its goals.